Board of Governors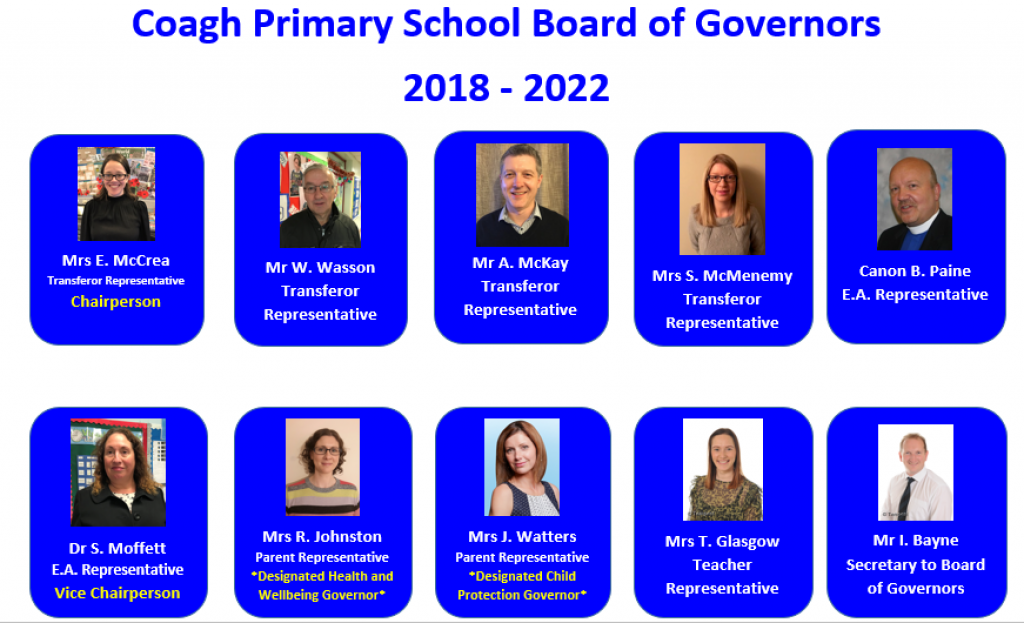 Governor Members
Mrs Emma McCrea (Chairperson) (Transferor)
Dr Sandra Moffett (Vice-Chairperson) (EA Representative)
Mr William Wasson (Transferor)
Canon Barry Paine (EA Representative)
Mrs Rachel Johnston (Parent Representative)
Mrs Jo Watters (Parent Representative)
Mrs Tanya Glasgow (Teacher Representative)
Mr Andrew McKay (Transferor)
Mrs Sarah McMenemy (Transferor)
Mr Ivor Bayne (Secretary)
Designated Governor for Child Protection- Mrs Jo Watters
Designated Governor for Health and Well Being- Mrs Rachel Johnston
Board of Governor Membership and Responsibilities
The governors are ultimately responsible for the overall management of the school. They are required to meet for a minimum of three times each year but in practice meet more often than this.
Some of their duties include:
The oversight of the curriculum.
The control of the budget.
The provision of information to parents.
The appointment of staff.
The maintenance of school premises (shared responsibility with Education Authority)
The admissions policy
Fostering links with the community and pursuing the objectives of Mutual Understanding.
The Curriculum
Under the Education Reform Order the responsibility of governors for the curriculum i.e. what is taught in the school, has been increased. The day-to-day organisation of the curriculum remains the Principal's responsibility. The Governors' control of the curriculum is mainly determined by the government. It is however our responsibility to ensure that a broad and balanced curriculum is provided for all pupils. To this end, the school implements the statutory requirements of the Northern Ireland Curriculum in English, Maths, Science & Technology, Environment & Society, Creative & Expressive and RE. Teachers continue to thoroughly plan, deliver and evaluate all aspects of the Northern Ireland Curriculum.
Coagh Primary School, 31 Urbal Rd, Coagh, Cookstown Co Tyrone BT80 0DW Phone: 028 8673 7676